Is WordPress The Right CMS For Your Business - Part 1?
I was recently asked at a Wordpress Developer meeting in Melbourne about whether WordPress is a good CMS for business. What a great topic! So this is part 1 of my 2 part series on WordPress. In this article I cover how WordPress came to be the most widely used software for content managing websites. Next week I look at whether WordPress is the right choice for your business website.
When people talk about content management systems (CMS) the name WordPress instantly springs to mind. How did WordPress become the most popular CMS on the market?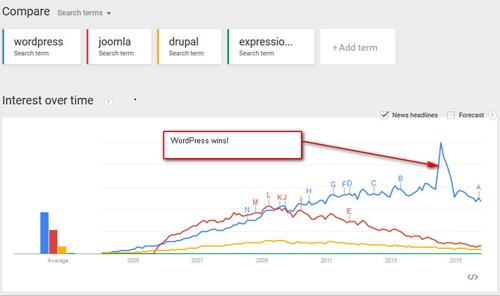 Let's explore how WordPress got so popular.
It's been around for ages. WordPress was first released in 2003 so it has had plenty of time to build up a decent following. However, just because something has been around a long time, doesn't mean it will be widely adopted.
In its early guises WordPress was well designed to build blog based websites. And as it happens, many basic websites are variations on a blog. Although not every company sees their websites as a blog, by using components that blogs consist of you can build a company website that looks professional without the blog overtones. Blogs are a stream of articles with or without comments and this structure can be used to model pages, news, events and so on.
Now, here's the big one. WordPress was designed with a plugin architecture. This meant that other developers could create WordPress components that could easily be slotted into websites. As WordPress usage grew, the plugin market grew more lucrative, the plugins got better, their usage increased and a huge array of useful plugins allowed WordPress to explode in popularity. There are now professional plugins that allow you to do almost anything imaginable from creating forms, events, E-Commerce, improve SEO and on the list goes.
On top of the plugin architecture, there is also a theme architecture. A theme is basically a graphic design that you can hook into WordPress. People around the world have created thousands of these themes and lots of them look great. You can easily change you site to use one of these themes meaning you don't need to know any html or graphic design. The theme market has grown just like the plugin market creating a rich ecosphere for WordPress users.
To top all this off, the WordPress back office (the area where you manage websites) has always had a good clean user interface. This didn't scare many users off, like some of the more sophisticated CMS's. I think this really was a huge factor as great usability attracts users.
Lastly, WordPress is open source meaning its free. This has of course added to its popularity for obvious reasons.
Given all these compelling reasons, you may think there is no other CMS in town. Next week I explore why WordPress is generally not preferred for serious content management by content management developers.