Cromwell Australia sells thousands of items of furniture to a mainly wholesales customer base of interior designers. Their problem was to keep stock up to date and online with accurate photography whilst minimising data entry.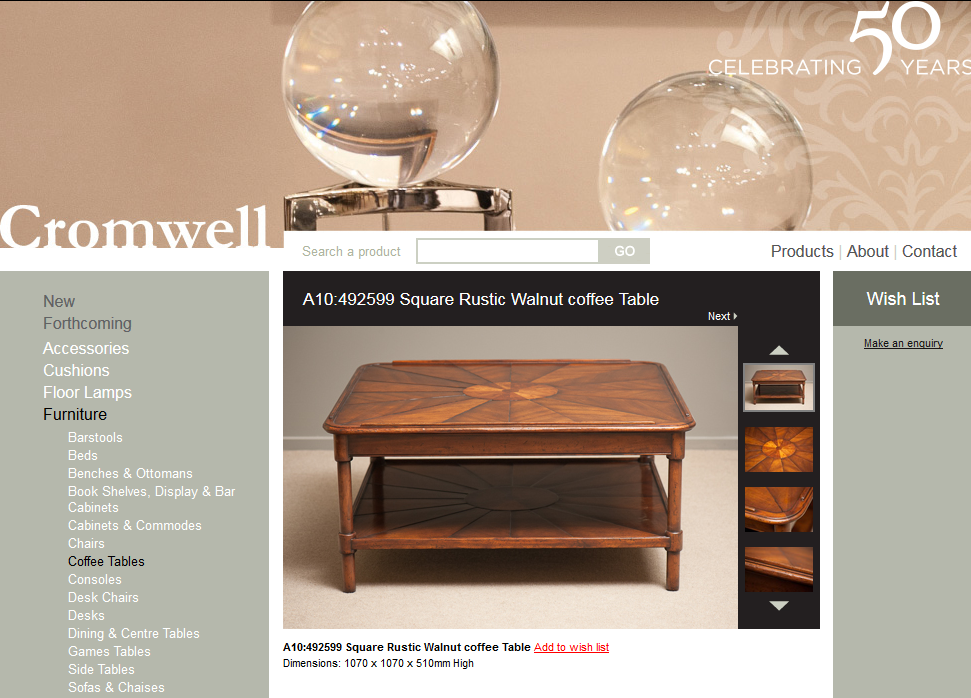 Our philosophy is to create solutions that improve businesses without impacting on their processes. Cromwell stored their stock in MYOB so it was imperative that this system remained as the sole data source for their website. We engineered a system of uploading the MYOB stock so this integration was seamless.

In addition, Cromwell receives new stock monthly and it was important that this stock was photographed professionally. Consulting with a professional photographer we designed an image upload convention which allowed him to easily create multiple photos per piece that would automatically appear next to the correct stock items when uploaded.
The result of this system has been:


The creation of an additional revenue streams. Previously after some time on the showroom floor, many of the furniture items ended up in Cromwell's basement where they were effectively unsellable. Now they can be automatically marketed through the website with beautiful photography.


Increased operational efficiency. The production of catalogs and wish lists is automated removing the need to manually photograph stock and create awkward, time consuming bespoke brochures for clients.


Improved customer retention. The ability to easily create a catalog has meant interior designers felt they were being better serviced and Cromwell has noticed an increase in return sales.
Visit Cromwell Australia